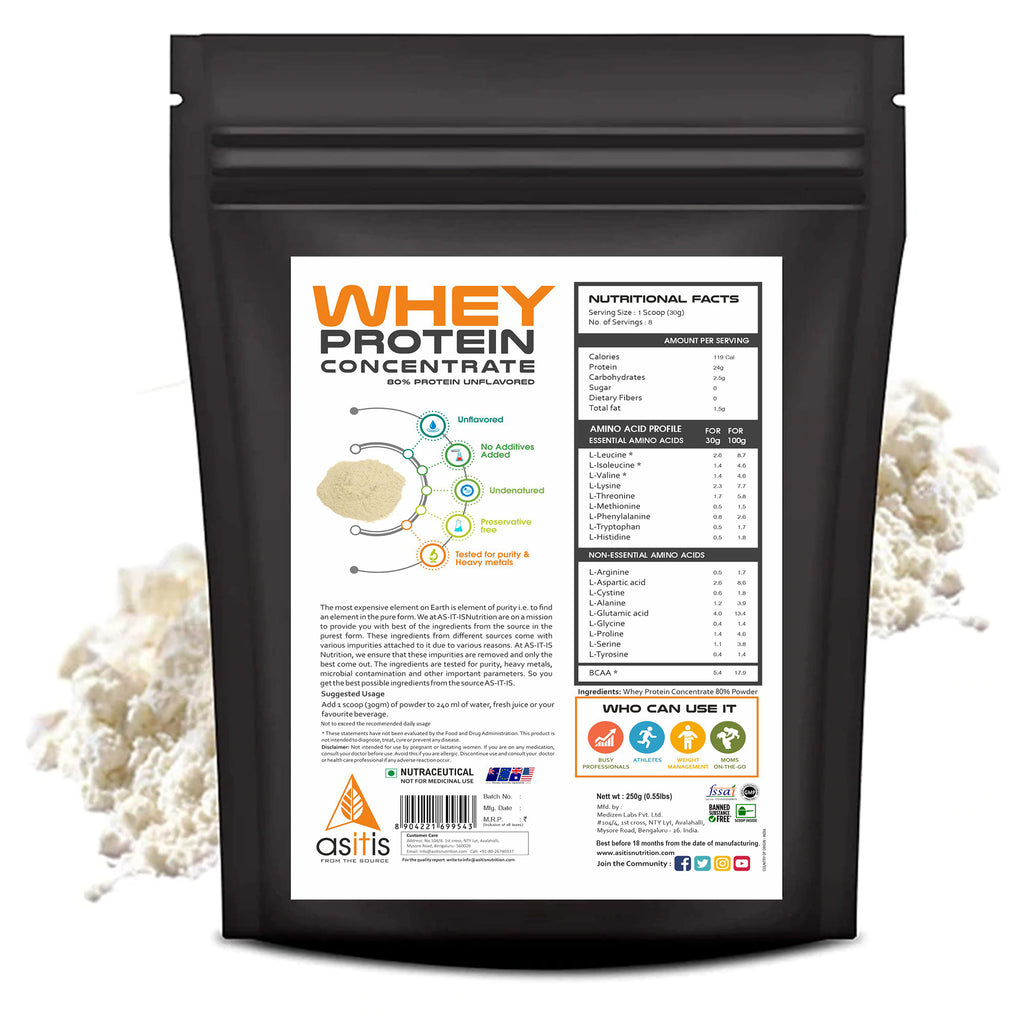 AS-IT-IS Whey Protein Concentrate - 80%
Rs. 499.00 Rs. 713.00
Get Extra 3% off on Prepaid Orders
24g Protein
5.4g BCAA
LABDOOR Tested
Only One Ingredient
3rd Party Lab Tested
Endorsed by 100+ National Athletes

Cross-Flow Microfiltered Whey Protein

Best Selling Protein
Country of Origin : India
Details
WHEY PROTEIN CONCENTRATE
PROMOTES MUSCLE BUILDING: Gain lean muscles like never before, with AS-IT-IS Nutrition Whey Protein.  In its natural, raw form, whey protein is ideal for those who love an intense workout as it boosts recovery and reduces muscle loss.
LIMITED PROCESSING: 

AS-IT-IS Nutrition Whey  Protein Powder has been minimally processed to ensure you get maximum protein and nutrients, as preserved in their original form. You get only clean and pure powder, without any fillers or preservatives.
HIGH PROTEIN CONCENTRATE: AS-IT-IS NUTRITION Whey Protein 

Each serving of 30g Heaped scoop contains 24g protein and 5.4g BCAA, which makes it very effective for muscle gain and synthesis.
FLEXIBILITY OF USE: 

In its unsweetened and unflavoured form, our AS-IT-IS NUTRITION Whey Protein supplement gives fitness aficionados the flexibility to use it in many ways. Add to your favorite juice, smoothie, pancake or protein bar.
ASSURED QUALITY: 

Our high-quality Whey Protein Concentrate is Non-GMO and Gluten-Free. sourced from the top vendors in the global market and conforms to the strictest manufacturing standard, guaranteeing quality and purity.
UNFLAVORED RAW WHEY PROTEIN: As Whey Protein Concentrate is unflavoured in nature, it may not taste great. However, it gives you the freedom to add the flavor of your choice.
CONFORMS TO NADA /WADA: Free from any doping ingredients as per NADA / WADA.
  HOW TO USE WHEY PROTEIN CONCENTRATE:
Add  1 Scoop (30gm) of AS-IT-IS NUTRITION Whey Protein powder to 240ml of water or fresh juice or your favorite beverage. Beginners can use half scoop for 1 week.
Frequently Asked Questions On Whey Protein Concentrate
Whey Protein is the protein derived from milk during the cheese-making process. It has high levels of essential amino acids and BCAA. Whey is a fast-digesting, convenient source of protein and the most preferred sports nutrition product attributable to its higher biological value.
Why should we choose Whey?
Protein powders are a quick and simple method to get a high amount of protein without needing ample preparation time for a full meal or standard protein diet, especially in the morning or soon after a workout. The highly bioavailable Whey Protein is the most convenient way to get the incredible dose of amino acids that stimulate muscle growth and recovery. 
How is Whey different from other proteins? 
The real factor that sets Whey apart from other protein sources is its highest biological value (BV) of any other protein source, meaning it is more efficiently absorbed and utilized for muscle-building purposes than any other protein source. Whey Protein digests faster and is absorbed relatively efficiently compared to other proteins.
Is the raw Whey digested easily? 
Certainly yes, there won't be a concern in digesting the raw Whey. Generally, people don't need proteolytic enzymes as they are produced naturally in our digestive system. Those who require the assistance of external enzymes for digestion can consume the product with papaya or pineapple juice that contains natural proteolytic enzymes. 
Is the product authentic? How do we ensure it? 
Yes, the product is authentic. The product is manufactured under stringent supervision in a fssai approved and GMP-certified plant. Our products are extra secure as they are allocated a unique QR CODE and the SCRATCH CODE that serve as valid proof for product genuinity. 
What is the right time to consume Whey? 
The discussion around the preferred timing of Whey consumption can be endless. You can take it before, during, and after a training session or any time of the day. However, within half an hour to one hour after a workout is the ideal time for Whey consumption if you're looking for better muscle-building results, as this is the time your muscles are more receptive to amino acids.   
What is the difference between Whey Protein Concentrate and Whey Protein Isolate? 
Both milk derivatives are excellent sources of protein that differ mainly in protein content. Whey Protein Concentrate provides 80% protein while Whey Protein Isolate involves the extra step of processing to derive 90% protein. Whey Protein Isolate is virtually low in lactose (contains only trace amounts), and fat content when compared to Concentrate and is particularly suitable for lactose-intolerant. Whey Protein Isolate although packs more protein per serving, Whey Protein Concentrate is a more economical option per gram of protein. 
How much Whey should we consume daily? 
Research studies have identified the recommended daily intake of protein for an average man/woman to be 0.8g-1g/Kg of body weight. (This value includes protein acquired from both whole foods and supplements). Accordingly, for the best results of muscle growth, we recommend consuming 30g of Whey with water or milk daily as a part of a healthy diet. Also, please note that the protein requirement varies with an individual's age, gender, weight, level of physical activity, and so on. 
What does it mean by 100% Whey when Whey Protein Concentrate delivers only 80% protein? 
The 80% refers to the concentration of protein available in a serving of Whey Protein Concentrate. 100% Whey refers to the protein source used, meaning Whey Protein as a single ingredient. It does not contain soy, egg, or any other source of protein.
How to Store Whey Protein Concentrate? 
You can store Whey in a re-sealable pouch or transfer it into an airtight container. Keep the container tightly closed in a dry and well-ventilated place, away from direct sunlight. It is advised not to refrigerate Whey because the high moisture levels can degrade the protein.
How long should we continue using Whey? 
Whey Protein is one of the best protein supplement options for muscle recovery and development and is considered to be safe for long-term use provided it is consumed in moderation. 
Can we combine Whey with other supplements? 
Yes, it's perfectly fine to stack up Whey with creatine, glutamine, arginine, and carnitine, citrulline, casein, and BCAA. In case, you're planning to stack up any other supplements with Whey apart from these, we recommend you consult a doctor before embarking on supplementation.
Is weight loss possible with Whey? 
Whey supports weight loss by speeding up the metabolism and reducing food intake. Whey Protein increases the release of gut hormones such as Cholecystokinin (CCK) which play a role in gastric emptying, appetite control, and blood sugar regulation. Whey suppresses the hunger-inducing hormone-like ghrelin and helps to prevent excessive hunger, which is the prime cause of overeating that may lead to obesity.
Is Whey useful to gain weight? 
Changing your weight requires adjusting the number of calories you eat, not just adding Whey. Accordingly, weight gain is typically a matter of high-calorie consumption. So, Consuming Whey with a high-calorie diet can lead to weight gain.
How long does it take to find results from Whey Protein Concentrate?
Fitness and muscle building are a matter of both nutrition and exercise. The implied results of muscle-building assume appropriate nutrition and training along with Whey. However, it's also important to note that the expected muscle growth varies from person to person based on lifestyle, body type, diet intake, and proper training regimen.  


What are the ways to use Whey Protein?
 For an extra protein breakfast without egg and meat, you can add a scoop of Whey to oats and consume it as a satiating breakfast. You can consume Whey as a healthy snack while you are in the office. Add Whey protein powder to your favorite fruits and nuts and consume it as a post-workout shake to get vitamins, minerals, and antioxidants to repair and rebuild the damaged muscle tissue.  
Where to buy the best whey protein powder in India? 
Please buy Whey protein from the official website asitisnutrition.com



Which filtration method is used in your Whey Protein?
Our Whey Protein is filtered using the cross-flow microfiltration technique, which is one of the best filtration methods for Whey Protein that utilizes a pressure drive separation mechanism to enable precise separation.
Cross-flow microfiltration happens in a chemical-free, cold environment. In a protein manufacturing plant, liquid Whey is sent through a fine, high-tech array of ceramic micro-filters (the size of the filter's holes is ultra-small). This process yields high-protein liquid Whey (which removes most of the fats, carbs, lactose, and water). Since no chemicals are used in this process, the valuable bioactive peptides remain intact with the Whey Protein.
Click On The Links Below For More Information On Whey Protein

Can Women Consume Whey Protein?

Can Whey Protein Help Lose Weight?   

Best Time To Consume Whey Protein     

Should You Consume Whey With Water Or Milk?   

Can You Combine Glutamine With Whey?

Can Whey Be Consumed With Coffee?

What Is The Reason For Foam In Whey?

Whey Protein & Creatine Combination

Whey Protein & BCAA Combination

Whey Protein & Micellar Casein

Is Added Digestive Enzyme Needed For Digesting Whey?

How To Use Whey Protein For Weight Gain?

Myths Vs Facts On Whey Protein

Unflavoured Whey Vs Flavoured Whey

What Is Amino Spiking In Whey?

Does Whey Cause Weight Gain If Consumed Without Workouts?

Best Whey Protein Powder In India
How Long Does It Take For Whey Protein To Give Results
Benefits of Whey Protein For Athletic Performance