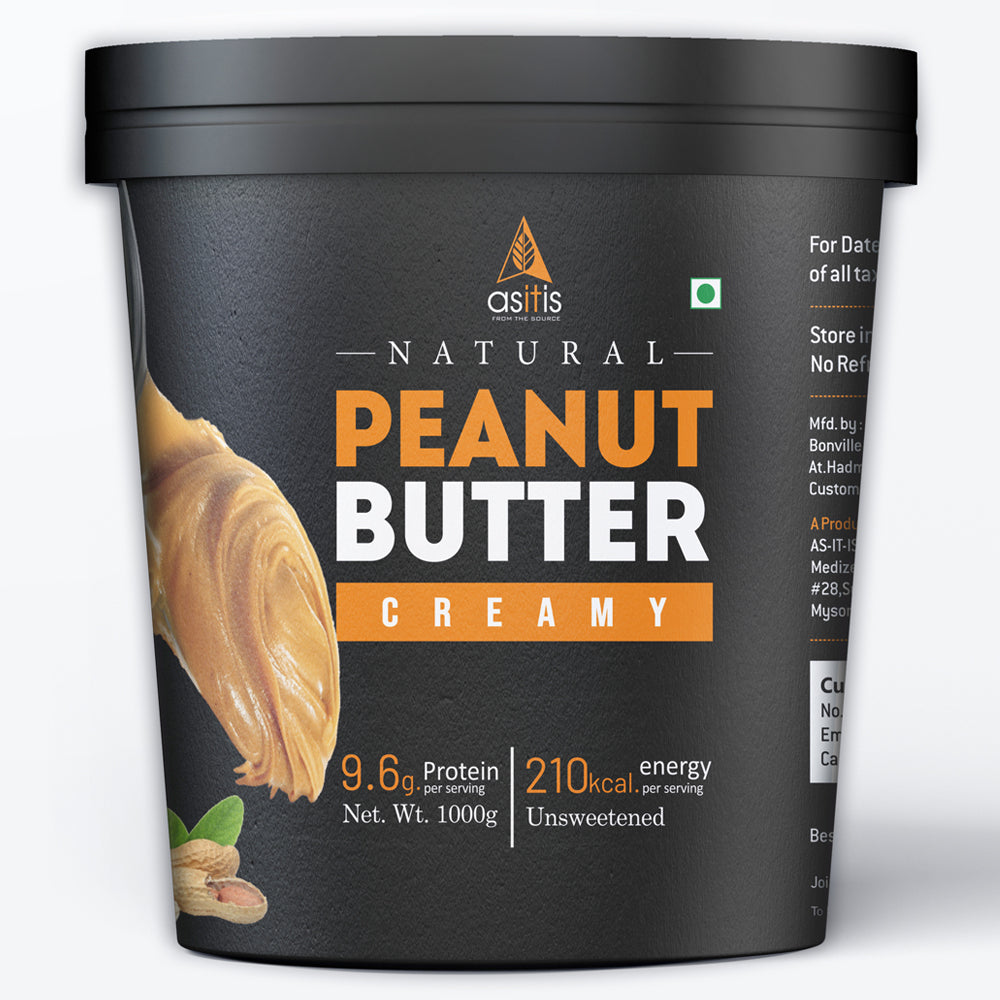 AS-IT-IS Peanut Butter Natural & Unsweetened with High Protein - 1Kg
Rs. 399.00 Rs. 599.00
Get Extra 3% off on Prepaid Orders
Only One Ingredient
Made with 100% Roasted Peanuts
9.6g Protein per serving
Unrefined / Unprocessed / Unsweetened
210k Cal Energy
Confirms to WADA / NADA
Country of Origin: India
Details
PEANUT BUTTER PROTEIN
ONE INGREDIENT ONLY: Made with high-quality, fresh, delicious peanuts ONLY. It is dairy-free, gluten-free, and guilt-free. Peanut Butter product contains no palm oil, added sugar, salt, flavor, preservatives and has zero trans fat. Contains heart-healthy fats and is a good source of dietary Potassium.
EXCELLENT SOURCE OF PROTEIN: AS-IT-IS Peanut butter provides 9.60g of protein per serving to help support your bodybuilding goals. The high protein value effectively helps meet your daily protein intake and makes it great for muscle growth, supports bone health and overall satiety.
PACKED WITH NUTRITION: Every serving of healthy, delicious, and nutritious Peanut butter offers 3g of dietary fiber and 6.3g of carbohydrates with zero cholesterol. It is also rich in niacin, folate, vitamin E, essential nutrients, and minerals. The dietary fibers support all aspects of health at optimum levels.
WITH ENERGY BOOSTER: Peanut butter is ready-to-eat diet food packed with 210Kcal energy/serving. It's free from caffeine and other stimulants and perfect for dieters, gym-goers and health-conscious people to get an energy hit for the day. The natural fat, along with fibre and protein stabilize insulin levels and ensure a constant energy supply for hours.
A NATURAL WAY TO SHED KILO'S: Not only is Peanut butter filling and healthy, but it is also great if you're trying to lose weight. The rich in protein and nutrient-dense Peanut butter can help to suppress appetite and cravings, so you can stay satiated between meals and stay away from unhealthy snacking.
TASTY TREAT: Peanut butter is a healthful option when used as a part of your balanced diet. It has a fantastic nutty flavor, is easily spreadable, and has a thick texture. Makes it a delicious treat whether used as a spread on sandwiches or stirred with protein shakes and smoothies.
CONFORMS TO NADA /WADA: Free from any doping ingredients as per NADA / WADA.


Frequently Asked Questions On Peanut Butter Protein
Peanut butter is a paste made from dry, roasted peanuts. It is a highly digestible, healthy, tasty treat packed with powerful nutrients and healthy fats.
What is the difference between peanut butter and butter?
Peanut butter is made from peanuts whereas butter is made from milk. Peanut butter is brown in color, while dairy butter is yellowish.
No, the product is not provided with a scoop.
Can it be used with chapattis for weight loss?
Yes, peanut butter is suitable as a spread on chapatti. It is rich in protein, promotes satiety and weight loss.
Is this good for weight loss when consumed with brown bread?
Yes, since brown bread is made with whole grain rich in fiber and peanut butter contains a good amount of fiber and protein, the combination of both may help in contributing to weight loss.
What is the suggested dosage of peanut butter?
The suggested dosage is 2 tablespoons (32g) per day.
How is the taste of Peanut butter?
The natural peanut butter has a nutty flavor.
What is the expiry date of the product?
The product is ideal for consumption within 12 months from the month of packing.
Does it contain hydrogenated oil?
No, the natural peanut butter is unrefined and does not contain hydrogenated oil.
What are the ways to use it?
Peanut butter is suitable to be consumed as it, as a spread on bread, for mixing with protein shakes to enhance the flavor, and can also be added to protein rolls or bars.


No, the product does not contain xylitol.
Should it be stored in the fridge?
There is no need for refrigeration. You can store peanut butter in a cool, dry place, away from direct sunlight.



Does peanut butter help to gain weight?
Peanut butter being a calorie-dense supplement helps to gain weight effectively when consumed as a part of other high-calorie meals.
Does it contain sesame oil or yeast or even a small amount of choco?
No. The natural peanut butter contains 100% roasted peanuts as a single ingredient.
No
Is there any other ingredient apart from peanut butter? There is no oil separation even though it is natural peanut butter?
The all-natural Peanut butter contains peanuts as a single ingredient. For natural oil separation to happen, it is suggested to store the peanut butter jar in a cool, dark place like the pantry and not refrigerate it.
Does peanut butter contain cholesterol?
No, natural peanut butter is not a source of cholesterol.
Doesn't it contain high-fat content? Is it safe?
Peanut butter is a protein package that brings you good fats. Peanut butter although contains high-fat content, it has a high share of mono and polyunsaturated fatty acids compared to saturated fats.
What is the price of Peanut Butter?
Peanut Butter (Crunchy) Price is Rs. 399
Peanut Butter (Creamy) Price is Rs. 399

What is the price of Peanut Butter?
Peanut Butter (Crunchy) Price is Rs. 399
Peanut Butter (Creamy) Price is Rs. 399


Click On The Links Below For More Information On Peanut Butter
Is Peanut Butter A Good Source Of Fiber?
Is Fat In Peanut Butter Healthy?
What Are The Health Benefits Of Peanut Butter?
How To Make Peanut Butter Chocolate Protein Shake?
What's Difference Between Peanut Butter & Peanut Spread?
Should You Store Peanut Butter Jar In Fridge?
What Is The Reason For Oil Separation In Peanut Butter?
Does Peanut Butter Help In Weight Loss?
Does Peanut Butter Make You Gain Weight?
Peanut Butter Good For Weight Loss? Yes or No?