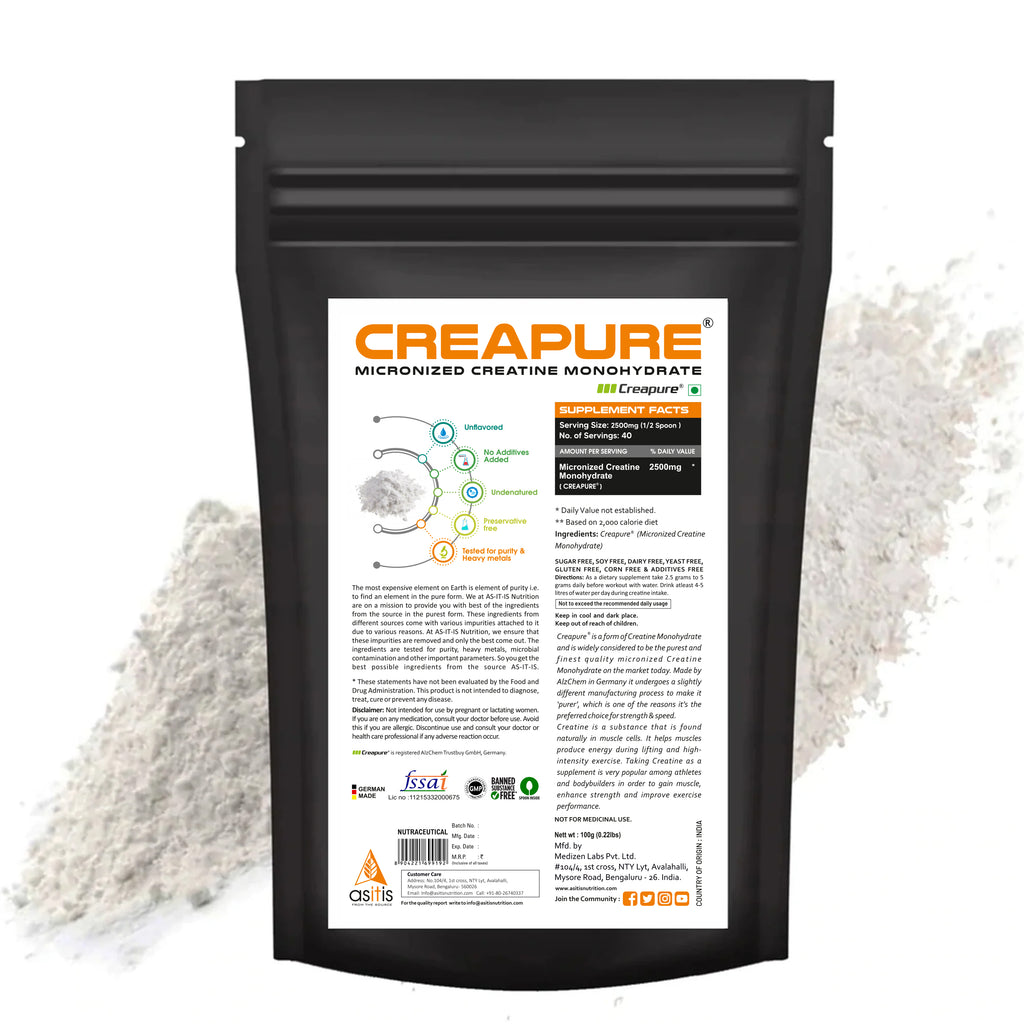 AS-IT-IS Creapure - Creatine Monohydrate, German Made
Rs. 489.00 Rs. 699.00
Get Extra 3% off on Prepaid Orders
2.5g per serving
German-Made
99.9% pure
Clinically Proven
Dope Free
Conforms to WADA / NADA
Details
Creapure
DON'T SETTLE FOR LESS: This product is made with 100% Creapure®, manufactured in Germany under strict GMP conditions, and verified for purity using High-Pressure Liquid Chromatography
CLINICALLY PROVEN SAFE & EFFECTIVE: Creapure® has been investigated in more than 50 clinical trials supporting its short-term safety. And numerous clinical trials have supported Creapure's® long-term safety as well. A patented manufacturing process eliminates unwanted by-products found in lesser quality creatine
MUSCLE GROWTH AND RECOVERY: If you only took one supplement ever for muscle growth, it might definitely be Creatine... Micronized Creatine Monohydrate promotes muscle growth, increased strength, powerful pumps, less fatigue, and fuller muscles
TO FUEL YOUR LIFE: Creatine Monohydrate will work just as hard as you do in those intense gym sessions. Get to the next level with our signature supplements.
CONFORMS TO NADA /WADA: Free from any doping ingredients as per NADA / WADA.


Frequently Asked Questions On Creapure
Yes, the product is micronized.
Is Creapure certified Creatine?
Creapure is the brand name for pure Creatine Monohydrate that is produced by Alzchem in Germany.
Does it increase muscular size?
Creapure increases muscle size by giving you the extra support and energy boost required for muscle building.
Normal creatine vs creapure, what is the difference?
Creapure is the ultra-pure, micronized, patent-protected form of creatine monohydrate. The difference is in terms of purity, while most creatine supplements are around 98-99% pure, Creapure is 99.99% Creatine Monohydrate.
Does it help to develop running speed?
Creapure benefits by boosting the potential energy required for physical performance.
How much weight can I gain using this product?
Weight gain is purely a matter of calorie intake. Creapure aids to boost your workout and gain good muscle mass. It is not a weight gain supplement.
Can a 16-year-old use it? 1 scoop per day for a little bit of weight gaining?
Creapure, a supplement found to be effective in short-duration, high-intensity exercise is not recommended for this age.
Is it suitable for women?
Creapure supplementation is effective and is found to be safe in both men and women.
How to take this and how many times in a day?
It is suggested to take 2.5g-5g of Creapure before work-out once a day. Creapure intake should be combined with a large amount of water intake.
Can I take Creatine with milk and sugar?
Normally, water is the most preferred and suitable liquid for Creatine intake. However, you can take it with other beverages of your choice too.
My present weight is 50 and I am 19 years old. I go to the gym daily. Does it help to increase my weight and muscle?
Creapure may not necessarily increase weight. By boosting the potential energy required for an intense workout, it helps build more muscle mass.
Can I take it for a home workout?
No, Creapure is basically a supplement taken to promote an intense workout.
Is this product helpful for height gain?
Height is a pre-determined factor that comes from genetics. Creapure is a supplement that delivers the energy required to boost intense performance and does not support height gain.
Does it help to lose belly fat?
Creapure boosts the potential energy required for an intense workout and indirectly aids to burn calories and support belly fat burning.
How many minutes before the workout should I consume and with how much quantity of water should it be mixed?
Creapure can be consumed 30 minutes to 1 hour before a workout. You can mix 2.5g of the supplement with a glass of water and consume it.
I am on blood anti-coagulant & B.P medication. Any restrictions?
Before embarking on any supplementation, it is suggested to kindly consult a doctor who can give advice directly related to your concern.
Why is it advised to consume more water when on Creatine supplementation?
When you take Crepure, it gains entry into the muscle cells along with the surrounding water molecules. Not consuming sufficient water when on Creatine supplementation may lead to dehydration and muscle cramping. Generally, it is suggested to drink at least 4-5 liters of water per day during creatine intake.
Is it ok to take Creapure with caffeine?
This is not advisable since both Caffeine and Creatine have dehydrating properties. Also, Caffeine will reduce the effectiveness of Creatine.