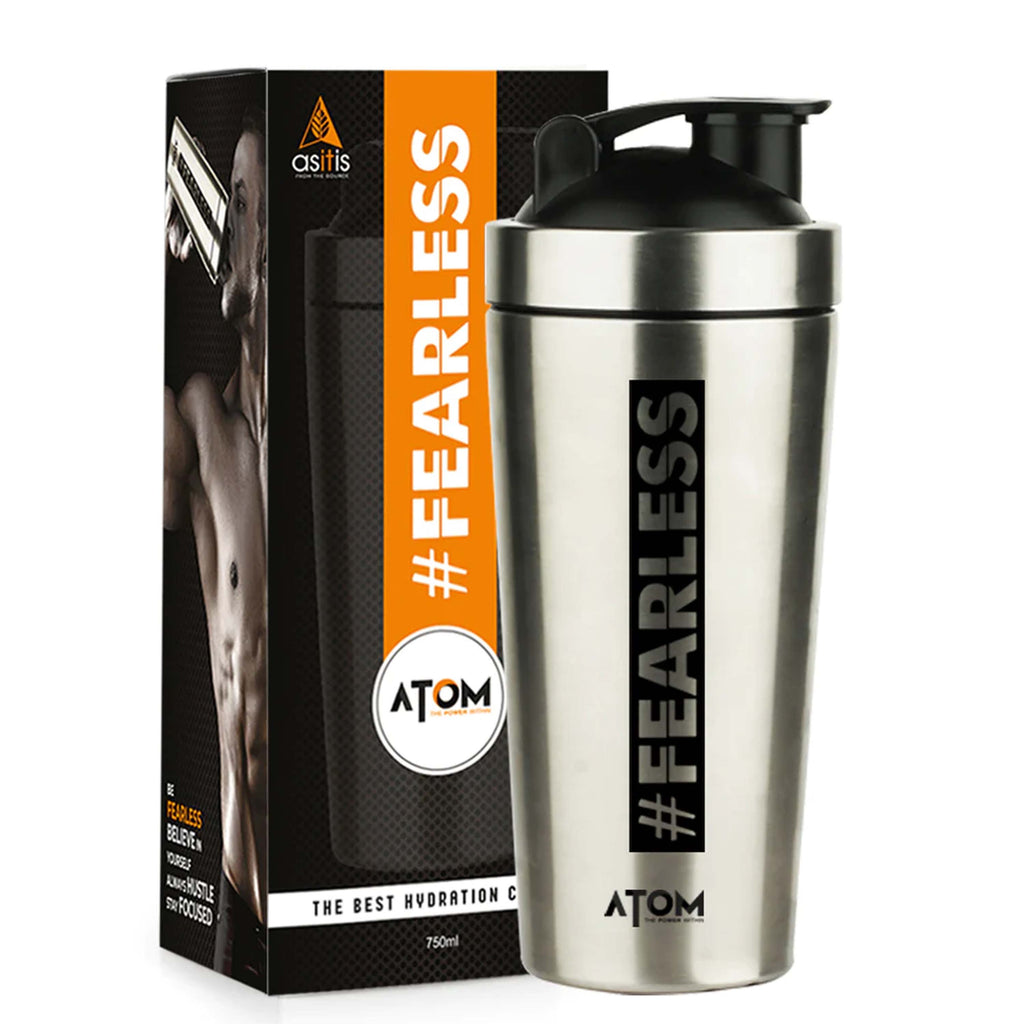 ATOM Steel Protein Shaker for Workout - 750ml
Rs. 739.00 Rs. 1,299.00
Get Extra 3% off on Prepaid Orders
100% Leak-Proof / Rust-Proof
750ml Capacity
BPA-Free / Stain-Resistant / Non-Toxic
Light-Weight / Durable / Wide-Open Mouth
Stable To High Temperature
Flip Spout Enables You To Drink With Ease
Easy Filling & Cleaning
Includes Mixer Ball For Easy Blending
Easy To Carry In Backpack, Carry Bag, Gym Bag
Details
HIGHLY DESIRABLE SHAKER BOTTLE: AS-IT-IS Atom shaker bottle makes the simplest and perfect modern day commodity. It comes in a convenient size (750ml capacity) and stylish design that suits everyone's hydration needs. The easy to hold and portable shaker bottle makes it virtually suitable for you to carry it to the office, college, picnics, trekking, playground, yoga or any other place you travel.
SUSTAINABLE: Stainless steel shaker bottles are on the rise as they offer a number of advantages over plastics. Stainless steel shaker bottles do not compromise the quality of contents and are stable to high temperature. They are non-toxic, reusable, eco-friendly, BPA-free, leak-proof, rust-proof, stain-resistant, light-weight, multipurpose and can be cleaned easily without any degradation.
SECURE LID WITH FLIP SPOUT: It is critical for a shaker bottle to have a lid that stays securely in place. Atom shaker bottles include a lid engineered to stay tight, backed by a leak-proof guarantee. The secure lid enables no spills while the wide-mouthed design gives easier access to pouring, easy filling and cleaning. The flip-open cap enables you to flip open with one hand and drink with ease while working out or on the go.
LONG-LASTING: Stainless steel bottle is not susceptible to temperature variations that could slowly degrade plastics, it is more sanitary, easy to clean and does not corrode as quickly. Stainless steel shaker bottles are neutral and do not react with beverages. This makes a 100% food grade safe shaker bottle a longer-lasting and reusable water bottle option.
WATER LEVEL MARKING: Style is equally important especially for a product you use nearly every day. The attractive sleek design shaker bottle is extremely durable without showing signs of wear and tear. It does not retain the flavours of the previous drink and comes with water level markings to enable you to prepare drinks in appropriate quantities. Make a caring gift for your friends and family.