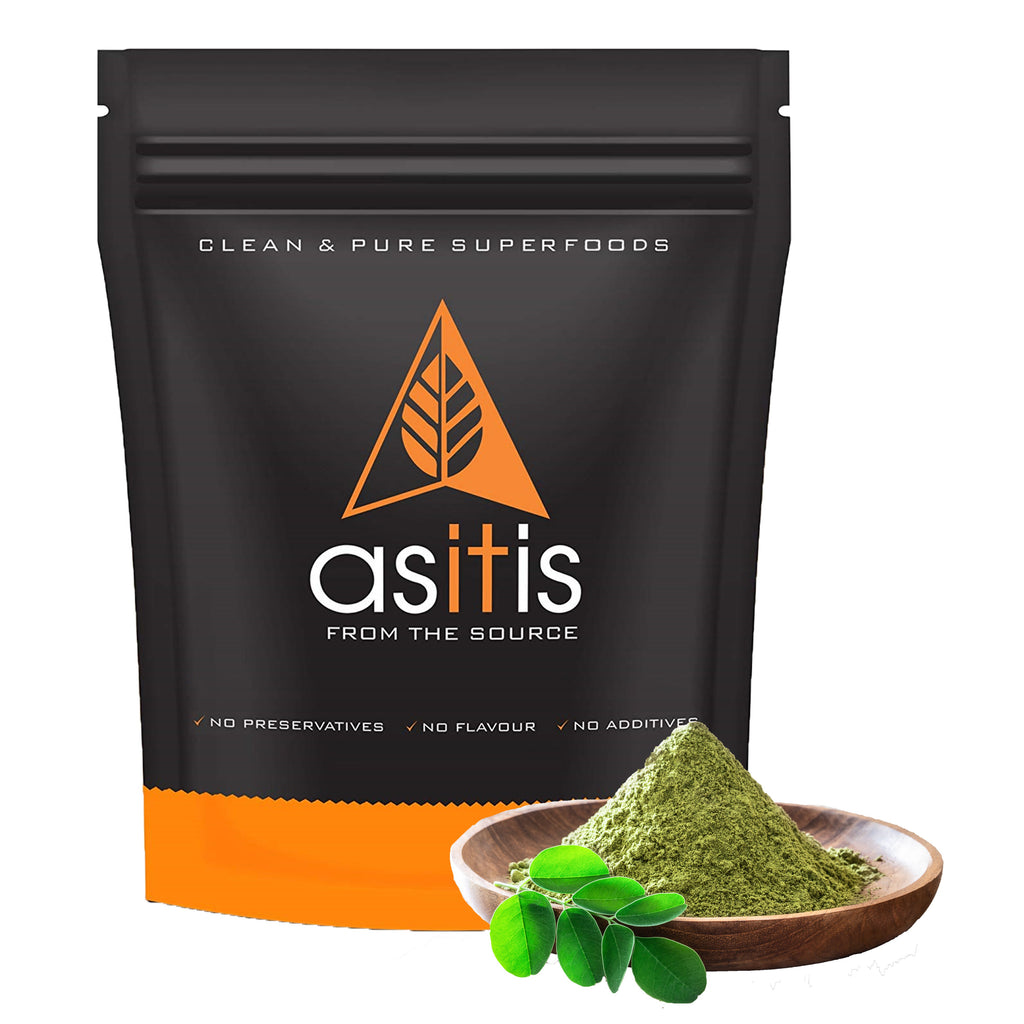 AS-IT-IS Organic Moringa Leaves Powder as Additional Source of Protein - 250g
Sold Out
Get Extra 3% off on Prepaid Orders
100% organic/natural super-food/sun-dried/no preservatives
Contains 25x more iron than spinach, 9x more protein than yogurt, 7x more vitamin c than oranges
Rich source of plant-based protein – offers 4g protein per tablespoon
Nutritional powerhouse helps strengthen immunity
Has powerful anti-inflammatory properties, helps fight fatigue
Helps promotes a healthy gut microbiome which affects metabolism
Promotes healthy appetite & energy levels
When applied as a face pack helps reduce fine lines & wrinkles
With 25% protein & a good boost of amino acids, Moringa strengthens muscles
Consume by mixing a tablespoon of Moringa powder into your soups/juices/curries/smoothie/protein shake
Country of Origin : India
Details
Buy Moringa Powder Online
HIGHLY NUTRITIOUS: Moringa oleifera tree is one of the nutritious plants ever discovered with most of its benefits concentrated in its small green leaves. Moringa virtually contains all nutrients needed by man. They contain essential and non-essential amino acids, phytochemicals, more than 40 natural antioxidants, essential and non-essential fatty acids, vitamins and minerals. The high protein content in moringa makes it particularly beneficial for vegetarians and vegans.
GREAT FOR WORKOUT ROUTINE: Organic Moringa contains everything you need to start your day or recover from your workouts. In order to gain maximum results from exercise, your body needs sufficient fuel. Moringa is rich in iron, vitamins, minerals, which can enhance energy-yielding metabolism, antioxidants that fight oxidative stress and inflammation, rich amino acid content which helps in muscle growth and recovery.
NATURAL IMMUNITY BOOSTER: Organic Moringa leaves are packed with vitamin A, vitamin C which is crucial for the normal functioning of the immune system, packed with iron that helps maintain good oxygen levels in the body. Most illnesses are traced to cellular damage, which is caused by free radicals. Moringa's high antioxidant content eliminates free radicals and keeps you safe from infections.
HELPS REDUCE FATIGUE: Organic Moringa has a potential not only as a healthy food supplement but also as a nutritional supplement that can help fight against nutrient-deficiency and contributes to reducing fatigue. Moringa packs in fatty acids (which are alternate sources of energy), proteins, vitamins like A, B1, B2, B3, vitamin C and E, minerals which are essential for the healthy metabolism, to boost immunity, and to promote energy. 
MAY HELP ENHANCE GUT HEALTH: Health experts believe that the healthy body begins in the gut because gut health has links to a stronger immune system. Moringa is aptly termed as a superfood as it is loaded with phytonutrients, vitamins, minerals, fiber that have been shown to promote a healthy gut by promoting the growth of beneficial bacteria. Their inflammatory properties may help reduce inflammation of the gut wall and inhibit the invading pathogens and toxins. 
NATURAL INGREDIENT FOR HEALTHY SKIN: Organic Moringa leaf powder contains potent vitamins and minerals that benefit skin health naturally. When applied topically on the skin as a face pack, moringa encourages skin cells to renew themselves, promote collagen synthesis, helps reduce blemishes, pigmentation, wrinkles and fine lines. Its antioxidant and anti-inflammatory properties protect the skin cells from oxidative damage and promote clearer and nourished skin.   
Also Try Beetroot Powder