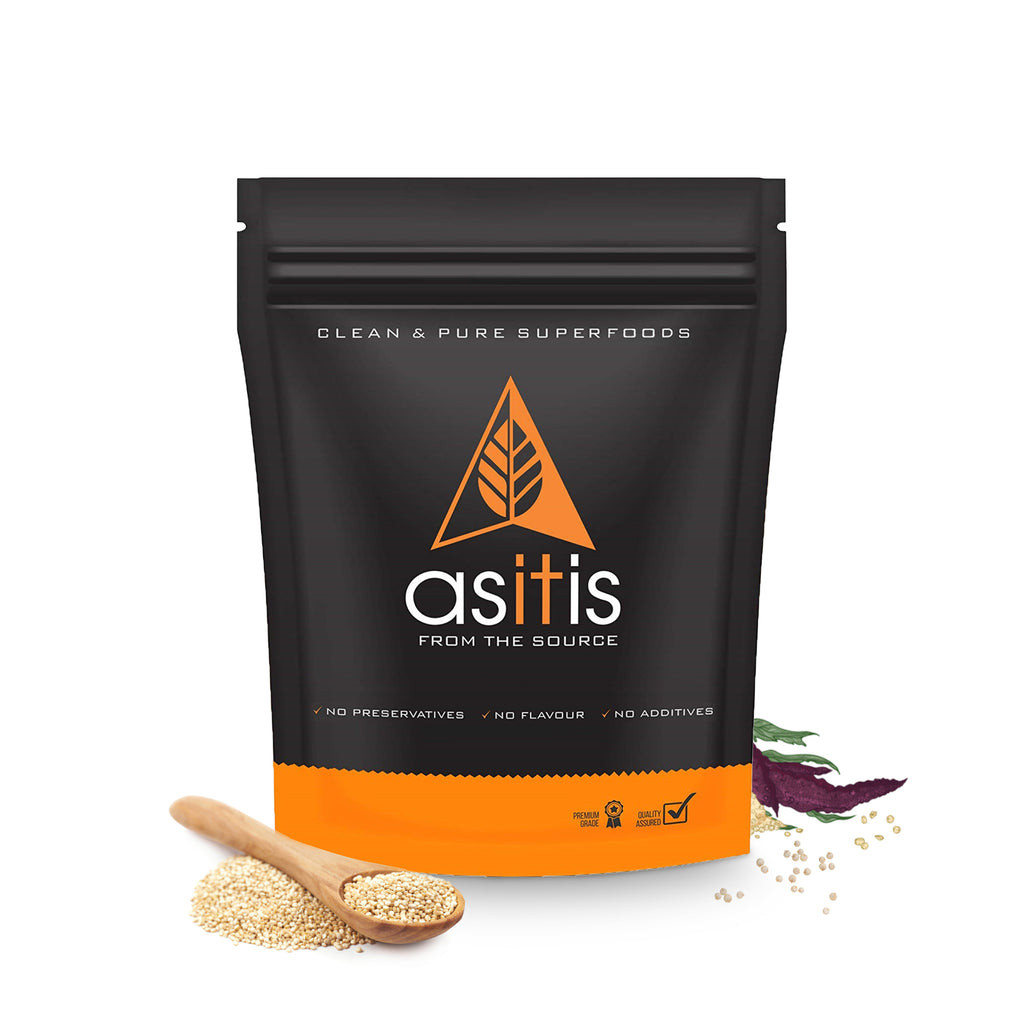 AS-IT-IS Organic Quinoa Seeds as Excellent Vegan Source of Omega 3s - 1200g
Sold Out
Get Extra 3% off on Prepaid Orders
100% pure/natural/organic/gluten-free
Protein-rich vegan food that offers 14g protein per 100g serving
Rich in essential fatty acids such as oleic, linoleic, linolinic acid
Has good source of minerals like magnesium, potassium, zinc, calcium
Has high amounts of soluble fibre that promotes satiety, reduces cholesterol
Exceptional composition of proteins, minerals, fats, antioxidants boost immune health
Add cooked quinoa to your salad/soup & consume
Country of Origin : India
Details
Quinoa Seeds
THE WONDER GRAIN: Quinoa (Chenopodium quinoa Willd) is a pseudo-cereal, a member of Amaranthaceae family which has its origin from the Andes region of South America. Studies support the use of quinoa as a potential gluten-free alternative to common cereals. AS-IT-IS quinoa is organic, has slight nutty/grainy flavour, fluffy texture, zero cholesterol, easy to cook, has versatility in preparation. Quinoa has a high proportion of plant-specific antioxidants known as flavonoids which are believed to promote wellness.


THE BEST VEGAN SOURCE OF PROTEIN: Quinoa is the grain of great nutrition interest. It is an excellent plant-based protein source for vegetarians and vegans. Quinoa's high proportion of protein is coupled with the dense fabric of amino acids. Its protein content ranges from 12% to 16% and is considered a complete protein source, which means it provides all 9 essential amino acids. The protein levels in quinoa are identical to that found in milk and higher than those present in cereals such as wheat, rice and maize.


QUICK SERVING IDEAS: The nutritious, versatile, satiating quinoa with its fast cooking time makes an easy addition to many dishes to add a big nutrition boost. Quinoa is great on its own whether eaten hot or cold, is ideal in soups and stew because the grains don't soak up too much liquid. Quinoa is ideal for daily consumption, makes its way for a healthy veggie bowl, dinner bowl, into your regular vegetable curries, oatmeals, tastes best with black bean and corn salad.


EXCEPTIONAL NUTRITIONAL VALUE: Quinoa has garnered attention as a highly-bioavailable protein source and balanced amino acid profile which is superior to wheat, barley or soybean. Contains fatty acids like oleic and linoleic acids which function as precursors to EPA and DHA. The fibre-rich superfood could be a great healthy choice, it is rich in B-vitamins, vitamin E, health-beneficial phytochemicals, contains a good source of dietary minerals like potassium, calcium, iron, sodium.


SUPPORTS DIGESTIVE HEALTH: The soluble fibre content in quinoa is higher than that of wheat and maize. Dietary fibre is considered essential for optimal digestive health, and also imparts various functional benefits. Fibre is the carbohydrate fraction which is resistant to enzymatic digestion and absorption in the small intestine. The good source of fibre in quinoa can promote satiety, reduce cholesterol and lipid absorption, improve intestinal microbiota, reduce the risk of gastrointestinal infection and inflammation.


HIGH LYSINE VALUE: Quinoa's essential amino acid profile is reported to be equivalent to that of casein and dried whole milk by FAO. Quinoa's primary interest is the high lysine value which is deficient in many grains. Lysine has a role in protein production meaning it's directly linked to the development of muscle, can improve athletic performance, improve muscle recovery, boosts bone health, and increases the body's ability to absorb calcium. Lysine, one of the limiting amino acids in cereal grains is found at twice as high as those in wheat or maize.