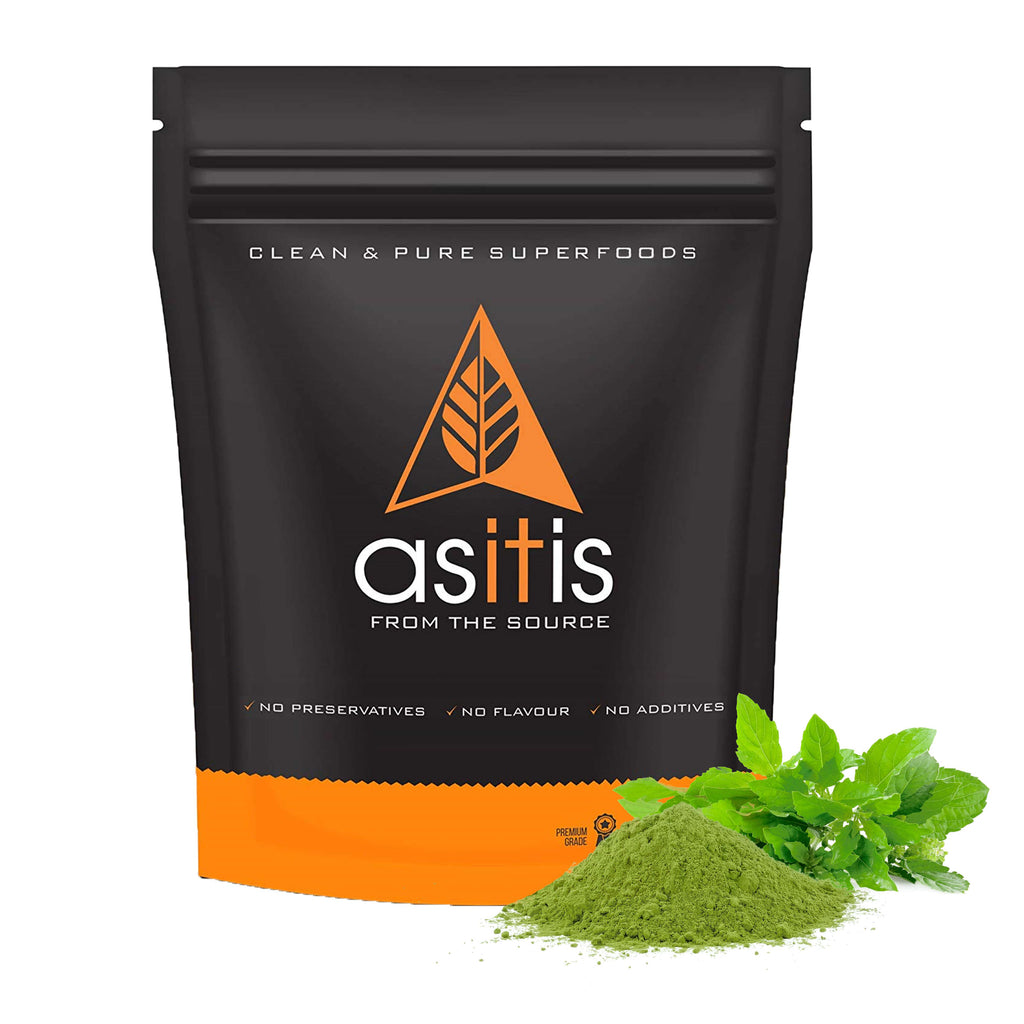 AS-IT-IS Tulsi Powder for Immunity & as Stress reliever - 250g
Sold Out
Get Extra 3% off on Prepaid Orders
100% pure/natural super-food/sun-dried/no preservatives
Has exceptional antibiotic, antifungal, antiviral properties
Loaded with phytonutrients that help boost immunity
Place 1tsp Tulsi powder in a cup, pour 150ml hot water, steep for 10 minutes & consume
Country of Origin : India
Details
Tulsi Powder 
Tulsi Powder Benefits
100% PURE & NATURAL:

 

AS-IT-IS tulsi powder is formulated from a natural herb, tulsi which is revered and considered sacred in the Indian ayurvedic traditions. Tulsi, which is also called Ocimum sanctum or Holy Basil is a powerhouse of antioxidants and is often referred to as an 'Elixir of Life' for its healing power and its benefits that promote wellbeing and resilience.
SUPPORTS HEALTHY DIGESTION:

 

Tulsi is a rich source of antioxidants and phytonutrients which offer potent detox benefits. Consuming tulsi water daily or adding a teaspoon of tulsi powder to smoothies or meals helps soothe your stomach. It may help improve bowel movements, fight against acid refluxes, and indigestion issues like bloating, constipation.
BOOSTS IMMUNE FUNCTION:

 

The aromatic herb is a rich source of biologically active compounds. It has exceptional antibiotic, germicidal, and disinfectant properties which effectively help protect the body from bacterial, viral, and fungal infections. Tulsi undeniably helps improve the T helper cells and natural killer cells activity, boosting the immune system.
MAY HELP RELIEVE INFLAMMATION:

 

Tulsi powder does not contain caffeine or other stimulants, yet has a positive effect on stamina due to its effective detox benefits and its effects on relieving stress. It has excellent antioxidant and anti-inflammatory properties which help beat inflammation of joints and promote faster recovery after workouts.
PROMOTES RESILIENCE TO STRESS:

 

Consumption of Tulsi powder on a daily basis is said to bring positive effects on the mind. Tulsi is known to bring your cortisol levels down and make you feel relaxed. Tulsi supports the body on a cellular level to reduce the negative impact of stress, safeguards your body from physiological, metabolic, and chemical stress, inviting calmness and clarity within.
A PROMISING HERB FOR SKIN BENEFITS:

 

Tulsi benefits skin by providing it with a deep-cleansing effect. It not only removes dirt and impurities but also removes excess oil. The wonder herb with its antibacterial properties is found to be effective on acne, skin infections, helps lighten dark spots, blackheads and improves skin texture when applied as a face pack. Tulsi powder can also be used in making tulsi tea.
CONFORMS TO NADA /WADA: 

Free from any doping ingredients as per NADA / WADA
Frequently Asked Questions on Tulsi Powder
WHAT IS TULSI (BASIL) POWDER? HOW IS TULSI POWDER MADE?
Tulsi (basil) powder is formulated from the leaves of the natural herb, Tulsi. Tulsi leaves are first collected, washed to remove mud and dust particles. The leaves are first dried in sunlight and then in an oven. The dried leaves are then ground to powder by cyclotec grinder (which grinds samples by a high-speed action). This action rolls the sample against the inner circumference of a durable grinding surface and then passes it through a fine-mesh screen). The obtained powder is then packed in an airtight pack. AS-IT-IS Tulsi powder is 100% pure, vegan with no added fillers or preservatives.
WHAT ARE THE BENEFITS OF TULSI (BASIL) POWDER?
The studies conducted on the nutraceutical value of Tulsi reveal that it is a rich source of phytonutrients, phenolics, flavonoids, terpenoids, pigments, minerals like potassium, magnesium, iron, chromium, vitamin C, fatty acid derivatives, and essential oils. Tulsi has antiseptic, antiviral, antibiotic, antifungal, antioxidant, anti-inflammatory properties that support immune function, digestion, cognition, reduce stress levels, help maintain oral health, skin health, and may provide many more health benefits.
DOES TULSI (BASIL) BOOST ENERGY LEVELS?
Tulsi is a natural vitalizer which increases stamina and endurance although it does not contain any caffeine or stimulants. Tulsi stimulates adrenals, has adaptogenic properties, helps regulate the normal levels of serotonin and dopamine, and promotes mental acuity. Tulsi rejuvenates the body and promotes calmness of the mind through detoxification and boosting metabolism.
HOW IS TULSI (BASIL) HELPFUL FOR HEALTHY IMMUNE FUNCTION?
Several aspects of modern life tend to suppress the immune system, including diets filled with artificial ingredients, environmental, household toxins, poor water or air quality, mental or emotional stress. Tulsi has exceptional antibiotic, germicidal, disinfectant properties, it is loaded with phytonutrients that effectively help protect the body from bacterial, viral, fungal infections and eliminate toxins. A decoction of Tulsi with little ginger juice and pepper powder 1-2 cups a day, preferably on an empty stomach, is the simple, natural way to boost immunity.
DOES TULSI (BASIL) HELP RELIEVE COLD SYMPTOMS?
The polluted environment can take a toll on lung health, resulting in respiratory problems like cold, asthma, and bronchitis. Tulsi with its antibacterial, antiviral properties helps to increase T helper cells and natural killer cell activity, boosting the immune system. Eugenol, camphene, cineole, and other flavonoids present in Tulsi can help reduce cold and congestion in the chest. Tulsi powder mixed with honey and ginger is effective in cold. 
HOW TO USE TULSI (BASIL) FOR RESPIRATORY INFECTIONS?
Tulsi leaves are known to have medicinal benefits and are found to be effective in relieving the respiratory system. Tulsi with antiviral, antioxidant, antibiotic properties help boost immunity and may help relieve cough, cold, stuffy nose, scratchy throat, or mild headache. Steal inhalation of Tulsi powder mixed with water is effective against respiratory infections. Also consuming Tulsi tea mixed with ginger can help relieve respiratory ailments.
DOES TULSI (BASIL) SUPPORT DETOXIFICATION?
Yes, studies have shown that Tulsi protects against toxic chemical-induced liver damage by increasing the body's levels of antioxidant molecules such as glutathione and enhancing the activity of antioxidant enzymes such as superoxide dismutase and catalase, which protect cellular organelles and membranes by reducing the damaging effects of free radicals. Tulsi has been shown to offer protection against the toxic effects of pharmaceutical drugs including acetaminophen, paracetamol.
IS TULSI (BASIL) HELPFUL FOR ORAL HEALTH?
Yes, Tulsi has broad-spectrum antimicrobial activity, it is effective against Streptococcus bacteria, which is responsible for tooth decay, dental cavities, and bad breath. Tulsi powder-infused water can be used as an herbal mouth freshener or oral disinfectant, and in treating bad breath.
DOES TULSI (BASIL) PROMOTE SKIN HEALTH?
Tulsi powder can give you natural skincare benefits by deep cleansing it, removing toxins and excess oils that may clog pores, and give birth to a number of skin-related issues like acne, and blemishes. Owing to its antimicrobial, antioxidant properties, Tulsi moisturizes the skin, keeping it youthful and radiant. Mix a tablespoon of Tulsi powder with water, apply the pack on the face, leave it on until it dries completely. Rinse with cold water, repeat this at least 2-3 times a week for effective results. You can also mix Tulsi powder with sandalwood powder, or rose petal powder, or turmeric powder to keep your skin youthful and radiant.
 IS TULSI POWDER BENEFICIAL TO HEART HEALTH?
Tulsi has been shown by studies to have cardioprotective benefits. Tulsi helps lower blood lipid content, protects the heart and blood vessels, promotes healthy circulation, reduces hypertension and the likelihood of strokes due to its higher antioxidant properties.
 HOW TO STORE TULSI (BASIL) POWDER?
Tulsi leaves powder stays fresh longer when stored in a plastic or glass container with lid tightly closed in a cool, dry place. 
IS TULSI (BASIL) SAFE TO CONSUME DURING PREGNANCY?
No, pregnant women are not suggested to consume Tulsi as tulsi contains several flavonoids which may cause uterine contractions by increasing blood flow to the uterus.
HOW TO PREPARE TULSI (BASIL) KADHA?
Place 1tsp Tulsi powder in a cup, pour 150ml boiled water over it, cover the cup, let it steep for 10 minutes, and consume the drink. You can add ginger, lime, mint, or honey if desired. Tulsi kadha has rich, full-bodied spiciness with just a subtle hint of sweetness. Tulsi powder can be used in herbal teas or mixed with other herbs to enhance its health-promoting qualities.
 DOES TULSI (BASIL) HELP IMPROVE DIGESTION?
Tulsi is a rich source of antioxidants and phytonutrients that may help enhance digestion, flushes toxins out of the body, improves bowel movements, provides relief from indigestion, bloating, and loss of appetite. Drinking a cup of Tulsi tea after meals or adding a teaspoon of Tulsi powder to your meals will help provide relief from indigestion issues.
 IS TULSI (BASIL) EFFECTIVE FOR ACNE?
Owing to its antioxidant and anti-inflammatory properties, tulsi powder can help clear out skin blemishes, acne, and help to prevent premature aging. Tulsi can help get rid of dirt, grime, flush out toxins from your skin, thus cleanses and revitalize your face. Mix Tulsi powder and turmeric with water and apply on the face to find relief from acne. You can make a paste out of Tulsi powder and lime juice, apply to the skin and rinse it with cold water.
 DOES TULSI (BASIL) PROMOTE RELIEF FROM STRESS?
Tulsi has restorative benefits on the nervous system which helps relax nerves, increases circulation, giving calming and cooling senses, contributing to a reduction in stress. Tulsi can help bring down stress levels and support the body's ability to rejuvenate. Tulsi tea is a simple and easy way to integrate into your day to help cope with many varieties of stresses of daily life. Tulsi is loaded with antioxidants and phytonutrients that help mitigate physiological stress, metabolic and chemical stress, it promotes physical, mental wellness, and resilience.
DOES TULSI (BASIL) HELP REDUCE PAIN IN THE JOINTS? 
Tulsi contains bioactive compounds like eugenol, eucalyptol, camphor which are known to have antioxidant and anti-inflammatory properties. These phytonutrients help reduce inflammation, boost circulation, stimulate fluids in the joints, and lubricates joints making it a natural analgesic. Regular consumption of tulsi help relieve pain in joints and boost faster recovery after workouts. 
 WHAT IS THE EXPIRY DATE OF THE PRODUCT? 
The product is ideal for consumption within 12 months from the date of repacking mentioned on the backside of the pack.
250gms Tulsi Powder price is Rs. 249 only.