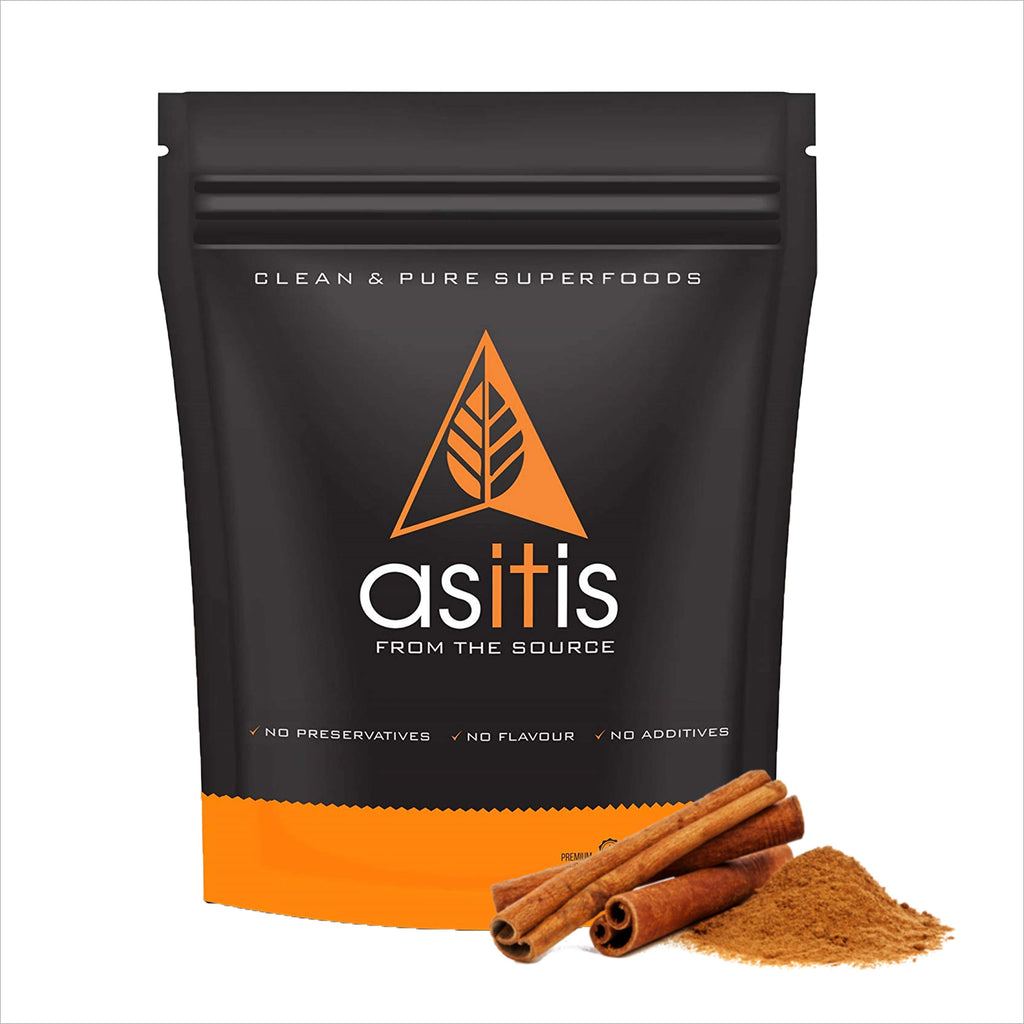 AS-IT-IS Cinnamon Powder for Immunity, Digestion & as Stress reliever - 250g
Sold Out
Get Extra 3% off on Prepaid Orders
100% pure/natural super-food/chemical-free/no added preservatives
Has antioxidant, anti-inflammatory properties
Sprinkle a pinch of cinnamon on your oatmeal/fruit salad/shake & consume

Details
CINNAMON POWDER BENEFITS
CINNAMON POWDER AN IMPRESSIVE SUPERFOOD: Cinnamon, an indigenous spice belonging to the Lauraceae family, is found in almost every household. For a long time, our ancestors have been using cinnamon as a constituent of food, and as a remedy for respiratory and digestive ailments. AS-IT-IS cinnamon powder is obtained from the inner bark of trees from the genus Cinnamomum, a tropical evergreen plant. The reddish-brown spice is 100% pure, natural, and loaded with health benefits.
CINNAMON POWDER A HIGH SOURCE OF ANTIOXIDANTS: Due to physiological and environmental factors, the body naturally produces free radicals, the excess amount of which may lead to oxidative stress. Cinnamon is a powerhouse of bioactive compounds like polyphenols, phenolic acids, and flavonoids which possess great antioxidant value. Flavonoid compounds in cinnamon actively seek out free radicals and reduce overall oxidative stress.
CINNAMON POWDER BOOSTS IMMUNE FUNCTION: Numerous studies have confirmed the immune-boosting and protective properties of cinnamon. Apart from antioxidant properties, cinnamon has antimicrobial, antibiotic, antiviral, and antifungal properties. It may help fight the disease-causing pathogens. The warming and soothing cinnamon promotes healthy gut flora and metabolism and promotes health with its anti-inflammatory properties.
CINNAMON POWDER MAY HELP REDUCE INFLAMMATION: Inflammation is a vital part of the immune system's response, which if left unchecked over time leads to illnesses. Cinnamon contains phytochemicals and polyphenols which exhibit active anti-inflammatory effects which can help lower joint inflammation and also reduce the risk of decline in heart and brain function.
CINNAMON POWDER HOLDS THE KEY TO HEALTHY DIGESTION: Cinnamon is one of the natural and safe carminative agents which has been traditionally used to address mild abdominal discomfort. Adding a pinch of cinnamon to your morning lemon water or tea, sprinkling it over freshly sliced apples, oatmeals or protein shakes are some of the best ways to achieve digestive health benefits.
CINNAMON POWDER GREAT INGREDIENT FOR SKIN HEALTH: While the chemical-loaded beauty products can have dangerous side effects on the skin, studies have reported that the anti-inflammatory properties of cinnamon combined with its antimicrobial properties make it a safe, natural, and a great way to support skin health. Adding cinnamon to your meals or applying it as a face pack helps remove dead skin cells, reduce acne and reinstate the softness of your skin.
The cinnamon powder does not have any side effects, cinnamon powder is also known as dalchini powder.
Also Try, Moringa Powder